COVID-19 - We are open for business in compliance with the provisions of the Prime Minister's Decree of 10 April 2020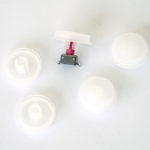 Code: CT010
Keycap base 6×6 mm and useful for 2 heights: 9,5 and 13 mm.
It can be assembled both covered with printed film (model lexan, polycarbonate, etc ) or exposed.
Colours: it is possible to order colours that differ from the schedule below
Material: nylon PA6
Packaging: 500 pieces
Overall dimension are in millimeters.
Products code kept in warehouse
| | | |
| --- | --- | --- |
| Code | Colours | Material |
| CT010-X | semi-trasparent | nylon PA6 |
| CT010-R | red | nylon PA6 |
| CT010-N | black | nylon PA6 |
| CT010-V | green |  nylon PA6 |
A little board is available, in order to evaluate the possible usage of the CT010.
Request it for free by filling in the form and mentioning the code CT010-demoboard